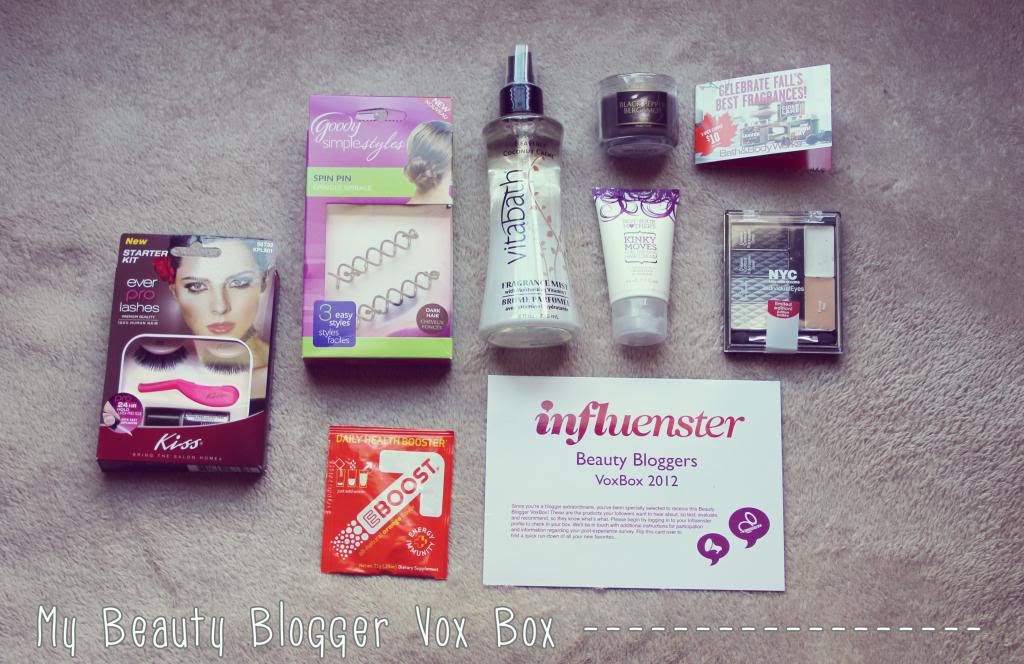 I was given the opportunity to participate in the Influenster Beauty Blogger VoxBox which basically is just a giant box full of samples. What I liked about this box was that all of this stuff were things that I would definitely try, just not things that I would necessarily buy for myself.
Here's the breakdown:
<> NYC Individual Eyes Eyeshadow: Normally I use a giant eyeshadow palate that doesn't fit in my makeup bag! I like that everything you need is in this tiny little package.
<> Goody Spin Pins: I pretty much never wear my hair up, except at the gym, so I would never buy these for myself, however, they're pretty awesome.. I may be trying to incorporate some updos in my hair routine! They are so super easy to use I was actually surprised.
<> Kiss Ever Pro Lashes: I'll be honest, I haven't tried these. I've never worn fake eyelashes and I've never really had the desire to. I've been blessed with long eyelashes and have never felt like I needed them to be any longer. Maybe one night for fun I'll try these on! I will say, I like that they are multi-use.
<> Vitabath Fragrance Mist in Heavenly Coconut Creme: This is something I definitely wouldn't have bought for myself in the store but I actually love it! At first, the coconut scent is pretty strong but it eventually it's just a subtle fresh smell that lasts throughout the day!
<> Bath & Body Works Candle in Black Pepper Bergamot: This smells like man. Definitely not a fragrance that I would have picked for my apartment. Typically, I like light fresh scents or seasonal scents like evergreen trees. I put this in my bathroom and it literally smells like a man doused cologne all over everything. It's not bad.. just not something I would have chosen or would choose in the future. I will say, for such a small candle it gives off a surprisingly strong scent!
<> EBoost Daily Heath Booster in Orange: I'll be honest, I haven't tried this yet, either. I don't normally like these powdered heath things although I probably should have tried it since I'm sporting a fabulous cold right now.
<> Not Your Mother's Kinky Moves Curl Defining Hair Cream: Now that my hair has been growing (thank you, Biotin) I've been wearing it curly more often. Naturally, my hair is incredibly curly and with the right product the curls actually look pretty. With the wrong product, they look a mess hah. I normally like sprays for my hair but this cream is light and smells nice anddd gives my hair the curls I like.
There you have it!! Thank you to Influenster for choosing me to be a part of this and sending me all of these amazing products!