GIVEAWAY!!!
Blog Positivity Week: A very fun aspect of blogging is all the giveaways. Ok, sometimes I think there may be a little too much giving away going on in the blog world, but most of the time, I think giveaways can be fun. It's a great way to promote a business you may support or simply do something nice for your followers. I have found numerous new blogs through giveaways and have even won some myself! I have formed bloggy friendships just by winning a giveaway- it's like an instant bond.
So, want to know what I'm giving away? Here's the story:
Captain Ahab had his white whale.
Indiana Jones had the Holy Grail.
Frodo Baggins had to destroy the ring.
And I had... Birthday Cake Oreos.
As many of you already know, I have sort of been obsessing over these Oreos. You can see the original blog post
here
. I literally could not find them anywhere!! Everyone was telling me where they were finding them, but I never could. My mom even sent me a picture of my brother, all the way in New Jersey, with a package (such a tease). Then, out of the blue, a friend of mine (ehemmm
Dustin)
sent me a picture of the Oreos.. right here in Memphis!! It was late at night, but we ventured out to Kroger and to my surprise and complete happiness - there they were!

It was like I had found the treasure. I had completed my quest. I guess it really is the little things that make me happy. Well, there was a sign on them saying that if you bought 10 packages you got a discount... so I bought 10 packages. I was living in the moment!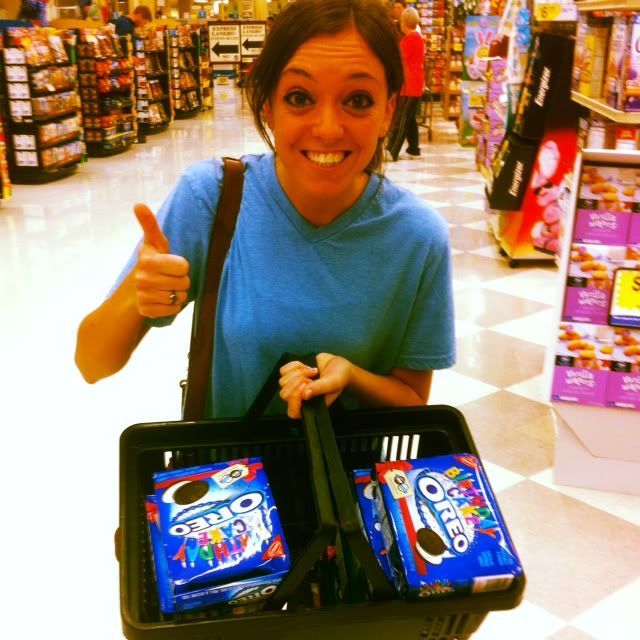 I was happily munching away on my ten packages of Oreos when I got a package in the mail... from my Mom. She had sent me three more packages!!! So now I have 13 packages of Birthday Cake Oreos and I want to share the wealth!
Now I know this may be sort of a lame giveaway since you all could just go to the grocery store and get your own. So, to make this more exciting, I am going to alsooo be giving away a surprise along with the Oreos to the winner!! Anddddd, depending on how many people enter the giveaway, I might even choose more the one winner. I know, I know, so exciting!
Here's how to enter
Please leave a comment for each of the following (the comments are your entries):
Mandatory entry:
Follow my blog via Google Friend Connect

Additional entries:
Tweet about the giveaway
Yeah, there are about a million ways to enter - what do you have to lose!!! Who doesn't love some free oreos?
PS. Oreo is not endorsing this in any way - I just want to share the ridiculous amount of Oreos I have - and they are amazing and so are my followers.