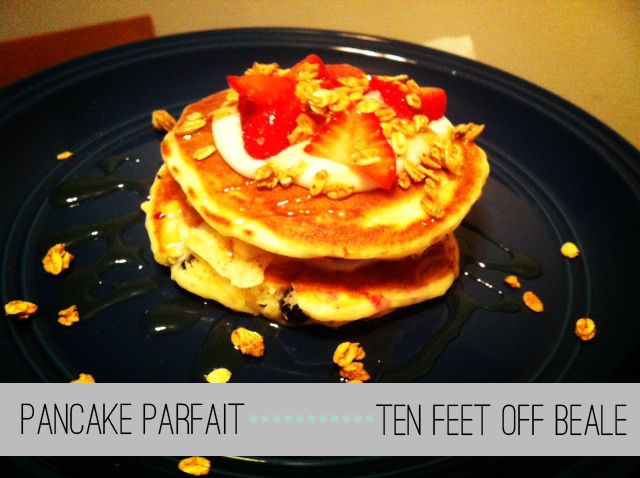 Here's another Food Channel inspired recipe that is seriously amazing. I have never been a fan of breakfast for dinner, but now that we've made this, I am very happy, and often suggest, pancakes for dinner!
You need:
<> Pancake mix (is this cheating?)
<> Vanilla Yogurt
<> Fresh berries
<> Honey
<> Granola
These are the steps we took (feel free to get creative!):
<> Make pancakes following instructions of box. We made blueberry pancakes absolutely LOADED with blueberry's.
<> Place one pancake on plate
<> Add spoonful of yogurt and strawberries
<> Place another pancake on top of strawberries
<> Add another spoonful of yogurt and more strawberries
<> Sprinkle granola over the top (our granola was maple flavored so it took the place of syrup)
<> Drizzle honey
Enjoy!
Seriously there are probably a million varieties of things you can do with this.
It was almost like eating dessert for dinner instead of breakfast.
Ps. We really don't eat breakfast for dinner all that often,
even though my past two recipe posts have been breakfasts hah oh well.