On Saturday, a group of motorcycle clubs put together a fund raiser for Y-CAP (where Jeremy works). They did a poker run. What this means is that there are five stops that the motorcyles make that day. At each stop (most stops were Harley dealers and other places like that) they receieved a playing card. At the end of the route they had five cards and would all convene, have a cookout, auction, and see who had the best poker hand out of the cards they accumulated.
Let me just say, my eyes were opened. I don't know much about motorcycles, I don't think I've ever known anyone with a motorcycle, and I've certainly never been on a motorcycle but these were some of the nicest and kindest and thoughtful people I had ever met. They raised over $6000 for Y-Cap which is incredibly appreciated and will really go a long way there.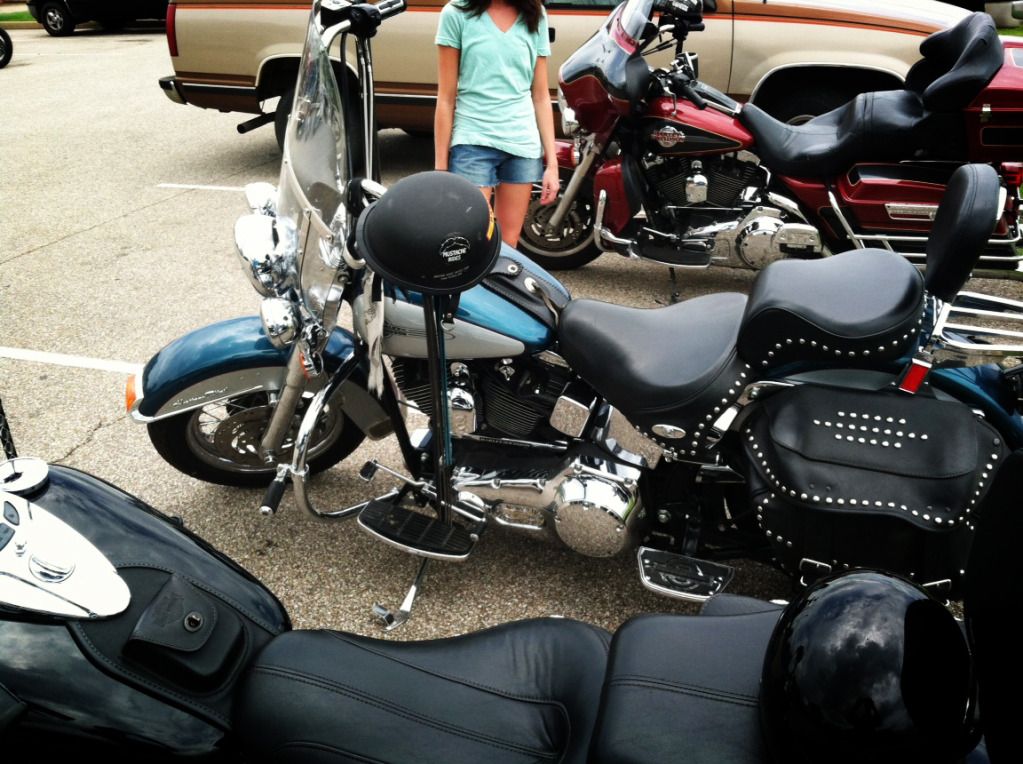 Here are just some things I learned
:
- Even though they look hardcore in their motorcycle garb, ponytails, beards, and tattoos, there were a bunch of doctors and lawyers in the crowd.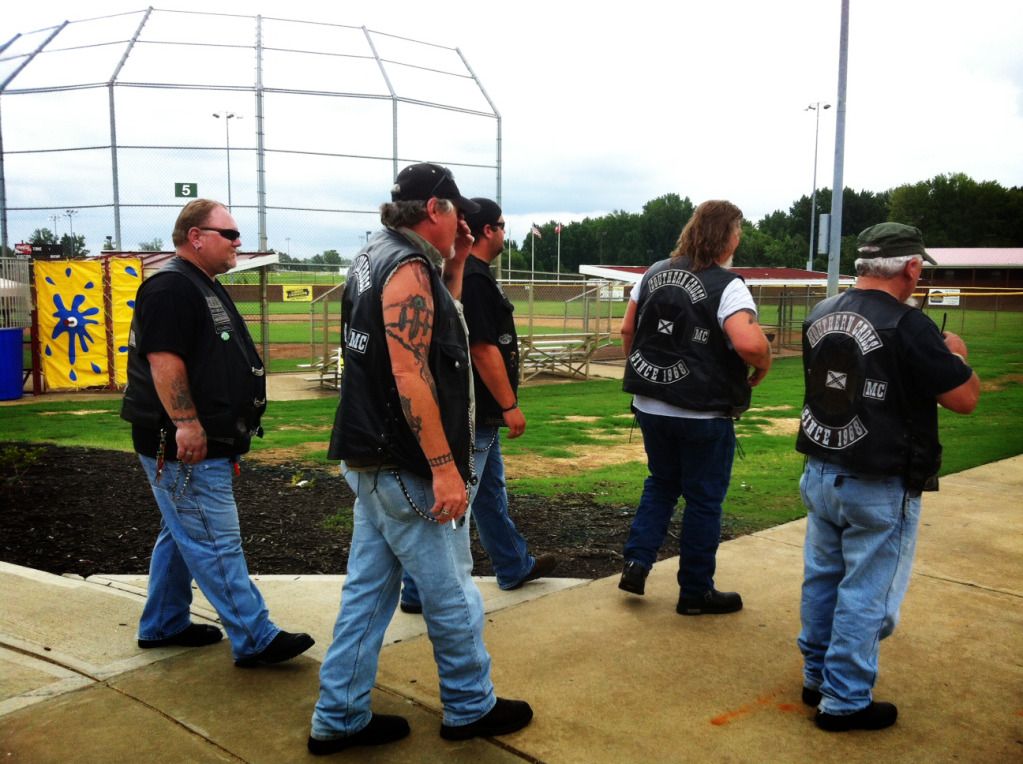 - All the clubs have different vests with really interesting patches all over. The patches determine their rank, the rides they've done, and, I'm sure, other stuff they didn't tell me about.
- Overalls are a completely acceptable thing to wear under your leather club vest.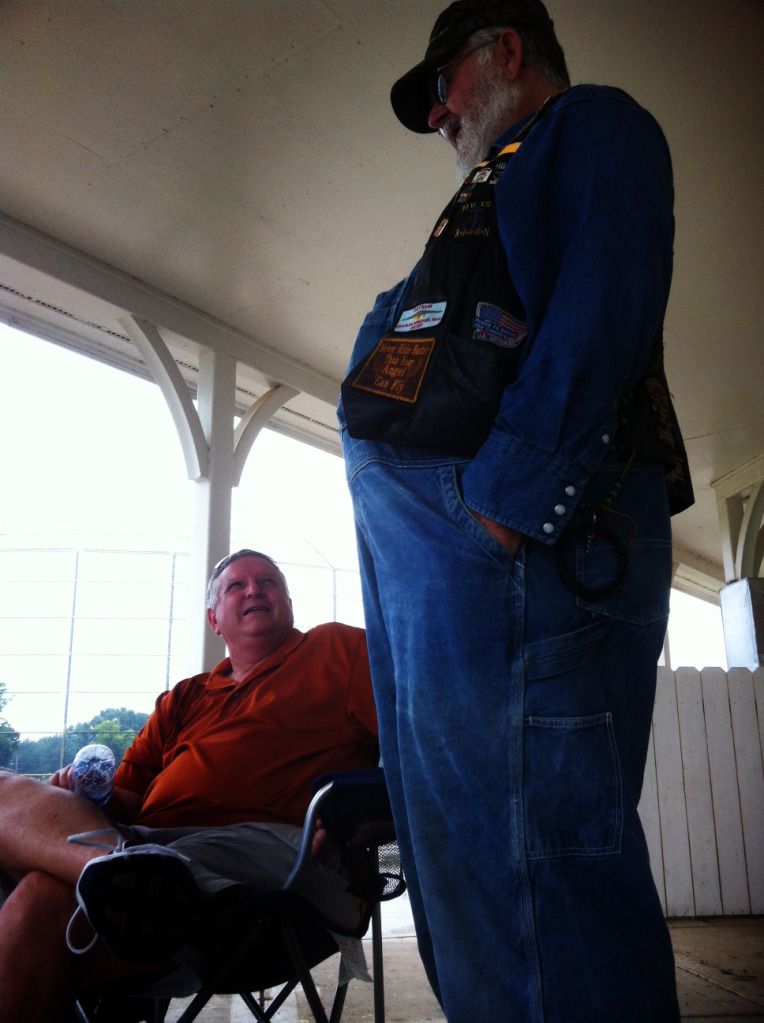 Okay, maybe only in North Mississippi ;)
- Each club has a president. Then there is a president of all motorcycles clubs of North Mississippi. Well, this was the guy that organized this entire fundraiser for Y-CAP. He is so important he has two body guards that were never far from him the entire day. Basically, if he says jump.. you jump.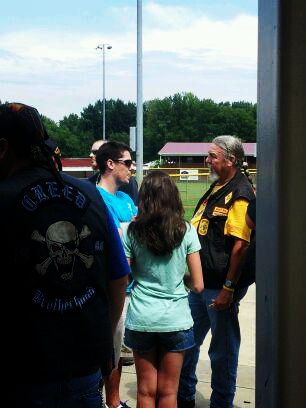 This is us talking to the "king" as we kept calling him. His body guards were right behind him.
- Certain clubs are men only clubs and it takes at least a year to become a member.
- Bikers will ride rain or shine! It rained a bit on Saturday.
- Their hearts are truly in the right place. There were bikers that do rides all the time specifically to raise money for children, then there were the Christian bikers who "ride for the Son". I was really impressed with the kindness everyone displayed.
This is one of the ladies Jeremy works with on the back of one of the bodyguard's motorcycles.
We really had a fun time hanging out on Saturday. I really didn't know anything about motorcycles or their riders, and I feel like I got a crash course. Now, I'm not about to jump on the back of a bike, but I met some really great people on Saturday and I'm so grateful for what they did for Y-CAP.