Now, before you get all grossed out and think this sounds disgusting.. give it a chance!!
I was a pickled squash skeptic and still can't really believe we did this.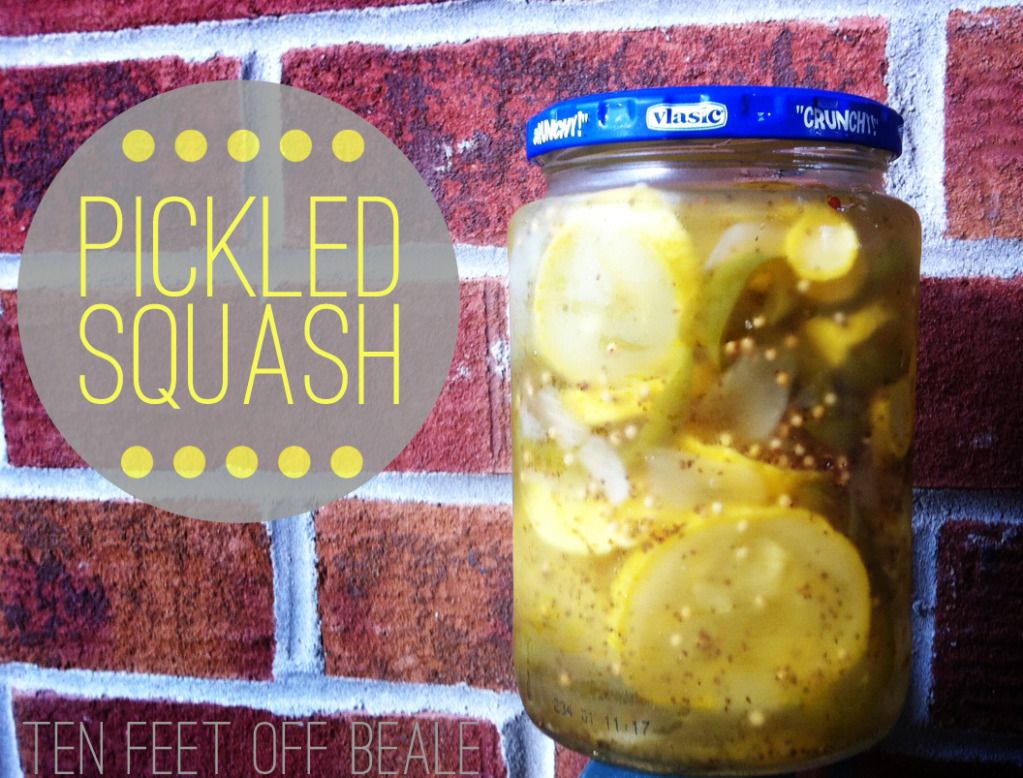 While hanging out at Jeremy's parent's house this Sunday, we started browsing through an cookbook that his mother received when she got married. It's from Decatur, Alabama and full of local family recipes that were submitted. There were things like "Phil's Favorite Birthday Cake" and "Uncle Fred's Pork Chops" and even "Fancy Potatoes" (whatever that means). It also explained the proper way to throw a Christmas party for 40 people. While flipping through and being entertained by the funny remarks people wrote along with their recipes and the strange things people sometimes like to cook, we stumbled upon an old favorite of Jeremy's
Apparently, when he was a kid, his Mother would make pickled squash. They assured me that it is actually really yummy and not too hard to make either. So we jotted the recipe down and took a stab at me. Yes, it looks a little funky, but don't all pickled things?
When we finally tried it (they have to sit for a while) I was blown away! One entire jar finished and I am a believer of Pickled Squash.
For those interested.. here's the recipe:

Ingredients
<> 8 cups sliced, small tender yellow squash
<> 2 cups sliced onions
<> 3 bell peppers, sliced in lengthwise strips
<> Salt
<> 3 cups sugar
<> 2 cups white vinegar
<> 2 teaspoons mustard seed
<> 2 teaspoons celery seed

Steps
<> Place onions, squash and peppers in mixing bowl and sprinkle with salt, gently combine.
<> Let stand one hour and drain.
<> Heat other ingredients and pour over squash.
<> Bring to a boil.
<> Place in hot sterile jars and seal
<> Serve cold

Makes 4-5 pints - we used a couple of old pickle and relish jars.. I knew there was a reason I kept them!

The little note that the author of the recipe wrote says "Different, pretty, and quite delicious."
I couldn't agree more!