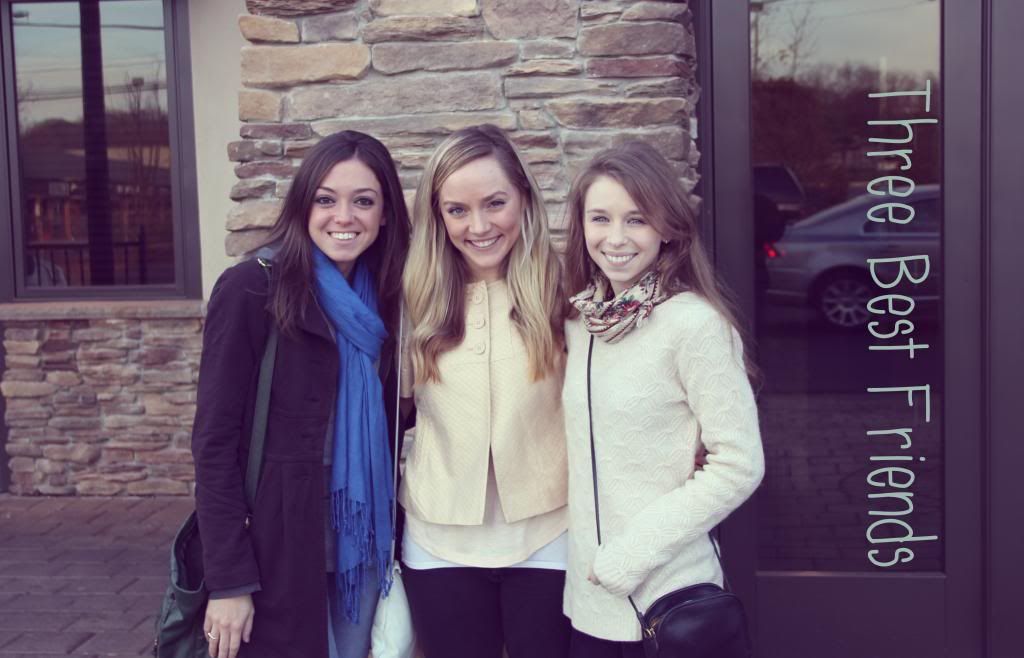 I seriously have the best friends in the world.
Allow me to introduce Mary and Catherine. [
You might remember Mary from this past post
] Catherine and I have been best friends since high school then Mary came along in college. Well, over Thanksgiving weekend, when I was up in New Jersey visiting my family, I had planned a lunch date with Catherine and her boyfriend. This was going to be the first time Jeremy was meeting them and it has been a year since I saw her. We arrived at the restaurant and sat down at a table and the next thing I knew Mary was walking over to us! Mary!! Who lives in Pittsburgh! Absolutely nowhere near New Jersey! It was the best surprise ever. The three of us hadn't been together since January... of 2011. That's a long time for three best friends to not see each other.
Even though we all live so far apart, and don't talk as often as I would like (I promise I'll be better!!) when we're all together it's like we've never been apart. That's how you know a true friend. Even though our lives are changing and we are getting older, I still would go to these girls for anything and know they will be there for me no matter what.
Mary and Catherine.. you girls mean so much to me and I love you both!!
Ps. This is Catherine's dog.. I got to meet him this weekend, too!! How cute is he?!