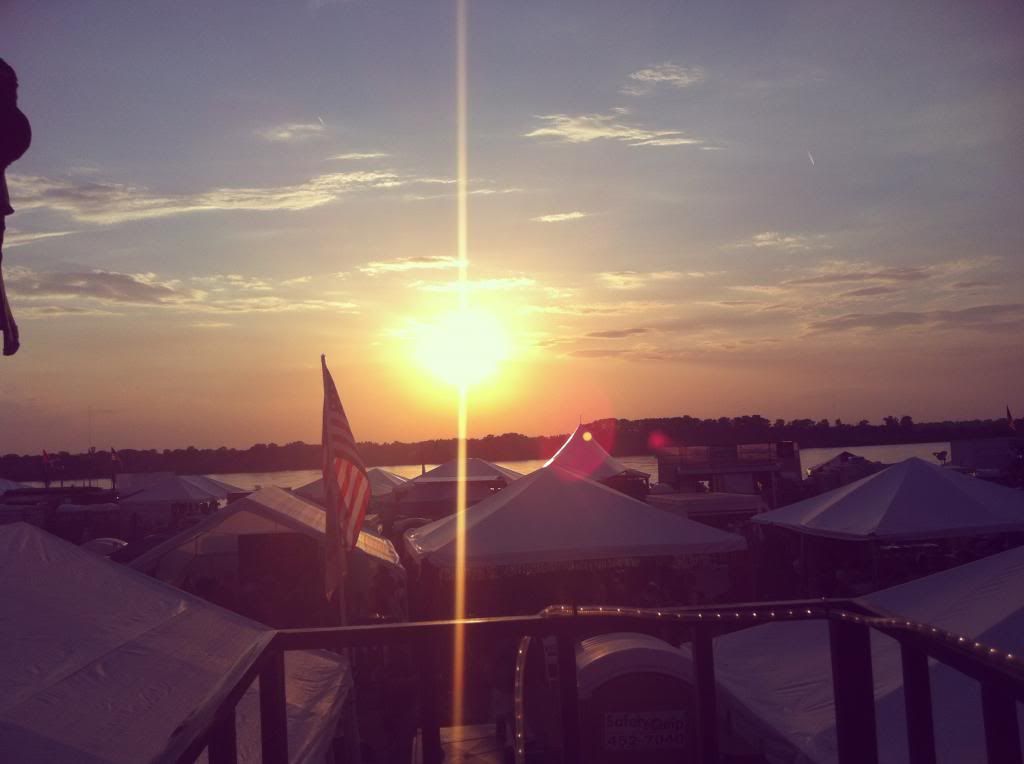 BBQ Fest is the biggest thing to happen in Memphis since Elvis left the building. For those of you who don't know, Memphis is the barbeque capital of the world! Every May there is giant food competition called BBQ Fest in which teams from all of the country (the world?) bring their best barbeque recipes and compete.
Tom Lee Park, which is right on the banks of the Mississippi River becomes tent city. Each team that competes sets up shop with temporary kitchens with ginormous smokers in tents. There are multi-story tents, themed tents, and then just plain simple tailgate-ish tents. All award winning teams proudly display their trophys and other recognition they might have received for their cooking. There are hundreds of teams! In order to get into a tent though, and actually eat some barbeque, you have to know somebody on a team, or follow the rules outlined in
this
article.
Lucky for me, I can proudly announce that this year I will be a member of an official Memphis in May World Championship BBQ Cooking Contest Team! (phew, that is a mouth full)
The team:
(They definitely get some creativity points in my book for that name.)
Now, I just want to point out a few things:
1) I don't actually eat barbecue!!! The only meat I eat is chicken (and that's a relatively new thing), so all this pork barbecue talk is sometimes lost on me. I can appreciate, however, appreciate it and at least I have my trusty sidekick (aka fiance, Jeremy) to do all the pork eating for me. I also appreciate a great coleslaw.
2) I have never met anyone on this team. I have only ever exchanged emails! I'm looking forward to meeting everyone and seeing how it all works from the inside. Last year I was just a visitor in a tent, and only briefly. This year I'll be spending more time at the competition so look for some follow up posts.
3) You should all read
this article
right now. It was written by a member of my team and it is incredibly informative and helpful!
Can you tell I'm excited? I feel like this makes me a real Memphian. I'm sure I'll be instagraming and tweeting along the way, so feel free to follow along!

I also want to say thank you to the To Sauced to Pork team for letting me join them this year. Really looking forward to it!!
(Does this post sound familiar to you? Parts were taken from last year's post that I wrote about BBQ fest)