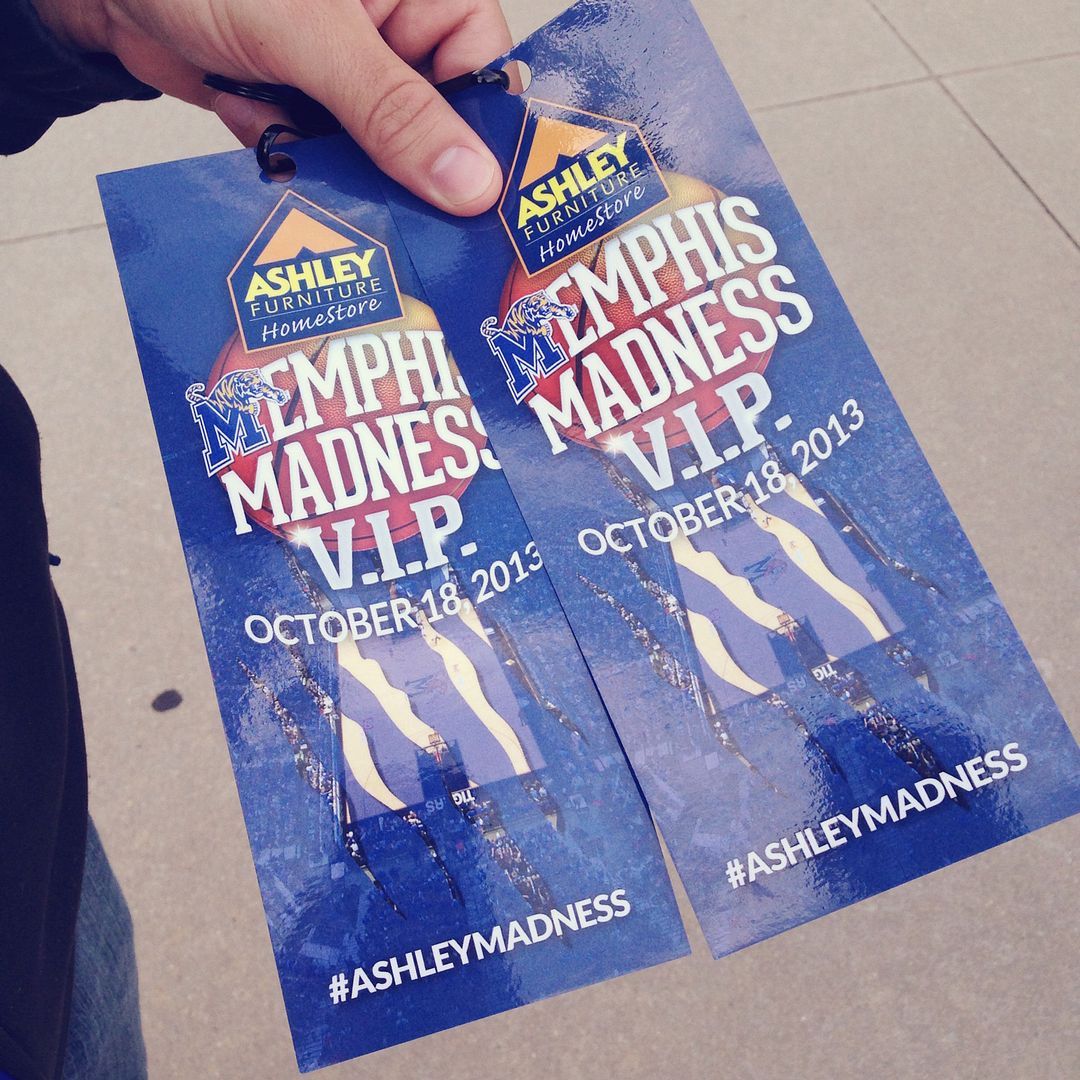 Memphis loves their basketball. Seriously. The only other time I've seen people sooo into basketball was when I was at Villanova (they love their basketball, too). Anyways, on Friday night, the University of Memphis kicked off basketball season with a huge pep rally at the Fed Ex Forum. People had been talking about this for weeks! There were rumors that there would be a special performance by Justin Timberlake or Drake. There were people waiting in line alllll day to get tickets!
It happened to work out that we just bought a couch at Ashley Furniture. They were giving away VIP passes when you bought furniture. Score for us! Not only were we going to get to go this year but we were also going to be in the special VIP section!
Since we were VIPs, we were able to go in the back door and pass the ridiculously long lines of people waiting to get in. We also were able to go in early and wander the concourse before the crowds were let in. The players were all sitting around signing autographs. Now, Joe Jackson and I are best friends.
Fun fact: DJ Stephens liked this picture on Instagram! For those who might not know, he's a former Memphis basketball player who is now playing in Greece.
Now, I think it's pretty obvious that Justin Timberlake wasn't the special surprise performance (although he is a huge Memphis Tiger fan), not going to lie, I was still anxious to see who it was going to be!! The moment finally came, the lights went out, the fog machine started, the anticipation was building! Then, music started and the announcer said "Ladies and gentlemen, please welcome Jimi Jamison". With that, there was a spotlight on a man I did not recognize. Yeah, Jeremy and I had no idea who this was (and I don't think were were alone). Then he started to sing. It was the guy who sings
Eye of the Tiger
! A Memphis Tiger favorite. Not what we expected.
There was another performance. Have you ever heard of ILuminate? I hadn't either. Apparently they were on America's Got Talent (season 6, I believe) and THEY. WERE. AWESOME!! Seriously,
watch this video
. They dance in the dark in suits that have coordinated lights on them. It was very very fun to watch. Probably my favorite part of the night... that and the player introductions.
They go through the roster of the men's and women's basketball teams and give each player a chance to show some personality. They all came out dancing to a song of their choosing. It's really great to see them get so into it. My favorite was the player who came out dancing to Elvis. Yeah, it was awesome.
Overall, it was a fun night. While I still am and always will be a Villanova Wildcat, it's fun to get into a local team. Who knows, maybe oneeee day Villanova and Memphis will play each other!! (Oh, I hope I hope!!!)